Straighten Teen Teeth with an Alternative to Unattractive, Metal Braces.

Invisalign® Teen straightens your teenager's teeth without the wires and metal common with orthodontic braces. The custom-made clear aligners gradually move their teeth into proper alignment and restore their confidence.
Treat common teeth issues
Invisalign® Teen corrects tooth alignment problems as effectively as traditional braces treatment. Eliminate underbite, overbite, tooth gaps, and overcrowded teeth.
Reduce the impact on your teen's lifestyle during treatment
Invisalign® Teen aligners are removable and designed to be worn for 20 to 22 hours a day. The treatment is more convenient and enables your teen to stay active and enjoy their lifestyle.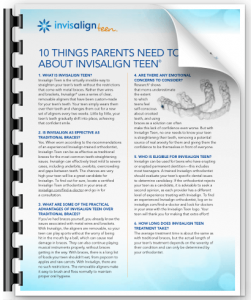 Participate in sports without fear of injury
Play musical instruments properly and unhindered
Enjoy your favorite foods
Maintain dental health with easy brushing and flossing
Treatment period comparable to traditional braces
Tooth alignment issues can have an impact on the duration of treatment. On average, Invisalign® Teen straightens their teeth within the same time frame as metal braces.