First-Things-First Details to Help Us Get Acquainted and Assist You with Your Child's Dental Visit
Save time and costs on your child's dental appointments. The following forms and features help our Honolulu children's dentistry team get acquainted with your child, provide an efficient appointment, and reduce your out-of-pocket costs for their care.
We are currently accepting new patients.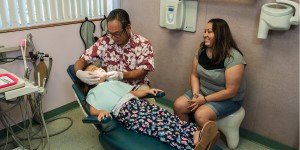 Patient Forms
Save time at your first visit by filling out patient forms in advance.
Just download the forms to your computer, fill out by typing or handwriting, print out, and sign. Then just bring your completed forms to your first visit.
New Patient Registration Forms
PDF files may be opened and filled out with the free Adobe Acrobat Reader (Windows and Mac) or Preview (Mac).
Insurance
We accept most major dental insurances. As a service we will process all dental claims for our patients.  All finances will be explained.
To get the best possible benefit from your insurance, please bring the proper referrals, cards and forms. we are happy to submit your insurance claim for you
If you have questions, please call the office at (808) 944-1603.
Payment
We accept these major credit cards:
Mastercard
Visa
Discover
We also accept checks from local banks.
Appointment Policy
To ensure the quality of service and provide efficient patient scheduling for you and all of our patients we have instilled a broken appointment policy. A broken appointment (a missed dental appointment without prior notification) not only causes undue hardships for my employees but also leaves a space in our appointment schedule that could be filled by a child with significant and urgent dental needs.
For every appointment missed without prior notification, you will incur a charge of $50.00 (one charge per family). This fee must be paid prior to your next appointment.
We truly value you and your family as well as the trust that you have given us. All we ask, is that you give us a call if you can't make your appointment.
Contact us
with your questions about appointment scheduling, insurance, and financial options.